Alebrijes – Mexican Wood Carvings
Discover alebrijes (ah-leh-bree-hess) – some of the most beautiful, unique and masterfully-crafted examples of Mexican folk art.
Alebrijes are extraordinary wood carvings originating in Oaxaca, Mexico, amongst the Zapotec communities of San Martin Tilcajete and San Antonio Arrazola. Rich in artistic tradition and cultural heritage, their accomplished artists have tremendous skill and passion for their craft.
They create remarkable figures of real and fantastical creatures, elaborately carved and imaginatively decorated with bright colours and intricate patterns inspired by pre-hispanic symbols.
Each 'alebrije' is shaped from copal wood with knives, machetes and very simple tools, revealing with artistry and patience the hidden creature that lies within.
Once carved, the figure is treated to ensure that it will be free of pests, then left to dry in preparation for painting. Depending on the size and complexity of the piece, it may take anything from a few days to many months to complete.
This creative process is learned from a young age and has been passed on for many generations. We want to share with you these fine examples of skill, knowledge, experience and imagination.
MexArt is the only place you'll find alebrijes for sale online in the UK. You'll find some of our pieces on display and available to buy at the Mestizo Mexican Market in London.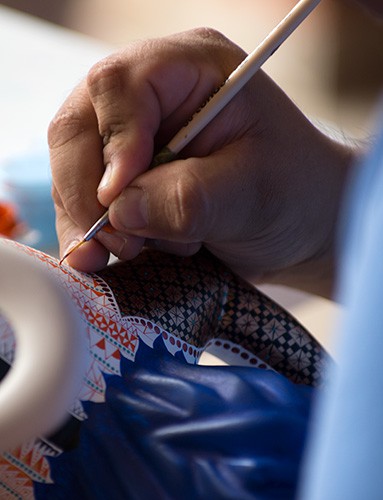 Alebrijes, Day of the Dead

This set of elegant skulls are inspired by the famous 1910–1913 zinc etching by the Mexican printmaker, cartoon illustrator and lithographer José Guadalupe Posada. The image of the elehant skull lady was offered as a satirical portrait of those Mexican natives who, Posada felt, were aspiring to adopt European aristocratic traditions in the pre-revolution era. La Catrina has become an icon of the Mexican Día de Muertos, or Day of the Dead. Dimensions: Male skull: 7cm (w) x 6cm (d) x 25cm (h) Weight: 0.85 kg Female skull: 5.5cm (w) x 5.5cm (d) x 18.5cm (h) Weight: 0.63 kg

£

380.00
The pieces below are no longer available, but we can usually commission similar ones. Contact us for details.
Alebrijes - sold

A strikingly carved and beautifully painted bear by artist Ray Mendez. It has the body of a bear and a lizard's tail. Hand-made in Oaxaca, Mexico Dimensions: 15cm (w) x 20cm (d) x 34cm (h) Weight: 1kg

£

280.00

Alebrijes - sold, Day of the Dead - sold

An amazing 'Catrina' skeleton lady figurine from Oaxaca, Mexico. Elaborately carved from copal wood by artist Manuel Cruz, and beautifully painted by his wife Ruvi Martinez. Manuel is the son of one of the masters of Oaxacan wood carving, Agustin Cruz (acclaimed for his fantastical carvings of toys, nativities and religious icons). He has certainly inherited his father's talent for precise and complex carvings, but has his own distinctive style. His wife Ruvi Martinez is a talented and innovative painter in her own right. Manuel was awarded first place in the wood carving category in the 2016 MEAPO-FOFA awards for Mexican folk artists, and his pieces are highly sought after by collectors. Dimensions: 12cm (w) x 12cm (d) x 33cm (h) Weight: 0.43kg

£

340.00

Alebrijes - sold

A magnificent bighorn sheep carved and painted by Maricela Roque. Beautifully decorated with geometric codex symbols of ancient Mexican civilisations. (2 pieces - body and tail) Dimensions: 14cm (w) x 23cm (d) x 29cm (h) Weight: 0.9kg

£

200.00

Alebrijes - sold

A black and white racoon with captivating eyes by young artist Giovanni Melchor, who trained with one of the grand masters of Oaxacan wood carving, Jacobo Angeles. Giovanni is a gifted carver and painter who stands out for his experimentation with style and technique. (body - 1 piece) Dimensions: 8cm (w) x 18.5cm (d) x 12.5cm (h) Weight: 0.5kg

£

125.00

Alebrijes - sold

A small, finely carved lizard, beautifully decorated with intricate designs. Dimensions: 19cm (w) x 25cm (d) x 5cm (h) Weight: 0.1kg

£

45.00

Alebrijes - sold

This incredible bear carving by Pedro Mendez has intricate painting featuring pre-hispanic iconography and symbolism. Each of the four legs has an illustration. The front left leg shows the Aztec God Quetzalcoatl (represented by the feathered snake). The back right leg shows Kukulcán, the Mayan wisdom deity related to Quetzalcoatl. The front right leg depicts the Water-Lily Jaguar, an anthropomorphic form of an important Maya god. His special attribute is a water-lily atop his head, which may reflect the jaguar's love of water. This jaguar god moves and acts like a human. His necklace is called a death-eye collar and is part of his attire for the sacrificial death dance. The Water-Lily Jaguar is a significant character in Maya narrative artwork. The scene on the back left leg represents the extraction of the spirit beverage pulque from the maguey plant. The seashells on the body represent fertility and birth. It is also a symbol related to Quetzalcoatl. Dimensions: 40cm (w) x 19cm (d) x 21cm (h) Weight: 2.5kg

£

1,300.00

Alebrijes - sold

A cute and original snail by Pablo & Lucy Mendez. Finely painted with dots creating a very interesting texture. (body - 1 piece, horns and eyes attach into slots) Dimensions: 6cm (w) x 20cm (d) x 12cm (h) Weight: 0.15kg

£

80.00

Alebrijes - sold

A very imaginative piece by Agustin Cruz, inspired by his father's award winning mermaid boat and nativity. This piece has a giraffe with human body sailing a boat with the shape of a mermaid. The Cruz family are well known for their unique and quirky carvings. Dimensions: 9cm (w) x 24cm (d) x 13.5cm (h) Weight: 0.14kg

£

200.00

Alebrijes - sold

An exquisite dragon by Oxacan artist Maricela Roque, decorated in her unique colourful style. This imposing piece took many weeks to carve and paint. Dimensions: 52cm (w) x 55cm (d) x 56cm (h) Weight: 1.9kg

£

895.00

Alebrijes - sold

Giovanni Melchor is developing a unique style all his own. This piece really shows how his talent is evolving and is one of our favorites to date. Dimensions: 14cm (w) x 15cm (d) x 18cm (h) Weight: 0.21kg

£

160.00

Alebrijes - sold

A colourful deer carved by artist Maricela Roque. Dimensions: 8cm (w) x 26cm (d) x 17cm (h) Weight: 0.16kg

£

50.00

Alebrijes - sold

A colourful and imposing dragon, hand-carved in the distinctive Oaxacan style. Dimensions: 24cm (w) x 24cm (d) x 30cm (h) Weight: 0.3kg

£

35.00

Alebrijes - sold

A tiny armadillo with a lot of character. Expertly carved and painted. Dimensions: 4cm (w) x 16.4cm (d) x 4cm (h) Weight: 0.02kg

£

20.00

Alebrijes - sold

An exquisite 'nahual' (pronounced [na'wal]) wood carving by artists Jesus and Roxana Hernandez of Oaxaca, Mexico. This imposing piece took 3 months to carve and paint. Decorated in their characteristic 'scale' pattern, it has skilfully inset glass eyes. According to pre-hispanic traditions, a nahual is a human being who has the power to transform either spiritually or physically into an animal form. They are seen as protectors of the people and the natural resources. Dimensions: 17cm (w) x 36cm (d) x 35cm (h) Weight: 1.2kg

£

650.00

Alebrijes - sold

A charmingly carved combination of two typical Mexican characters, by artist Maricela Roque. Finely decorated with the geometric patterns of pre-hispanic Mexico. Dimensions: 13cm (w) x 50cm (d) x 16cm (h) Weight: 0.87kg

£

195.00

Alebrijes - sold

A stunning wood carving by renowned artists Claudio Ojeda and Teresita Gonzalez. Finely painted and exquisitely sculpted. This large piece would look fantastic on a mantelpiece or sideboard. (body - 1 piece, feathers and wings attach into slots) Dimensions: 80cm (w) x 22cm (d) x 55cm (h) Weight: 0.5kg

£

750.00

Alebrijes - sold

A beautifully carved elephant, decorated in a distinctive two-tone style. By Maricela Roque. Dimensions: 11cm (w) x 40cm (d) x 18cm (h) Weight: 0.98kg

£

150.00

Alebrijes - sold

A cute fire-breathing dragon in electric blue. Dimensions: 15cm (w) x 22cm (d) x 30cm (h) Weight: 0.136kg

£

40.00

Alebrijes - sold

A comical and colourful pair of minuscule martians. Dimensions: 6cm (w) x 6cm (d) x 4.5cm (h) Weight: 0.02kg

£

10.00

Alebrijes - sold

A colourful fire-breathing dragon, hand-carved in Oaxaca. Dimensions: 21cm (w) x 25cm (d) x 35cm (h) Weight: 0.33kg

£

50.00

Alebrijes - sold

An elegantly painted rabbit carving in a brown colour. This small piece would add a decorative touch to any room. Dimensions: 4cm (w) x 11.5cm (d) x 7cm (h) Weight: 0.05kg

£

25.00

Alebrijes - sold

A strikingly carved Armadillo colourfully decorated by artist Maricela Roque. Dimensions: 13cm (w) x 32cm (d) x 33cm (h) Weight: 0.85kg

£

220.00

Alebrijes - sold

A fantastic decorative piece that will light up any room. Beautifully carved and painted in a colourful Mexican style. Dimensions: 15cm (w) x 19cm (d) x 16cm (h) Weight: 0.11kg

£

50.00

Alebrijes - sold

An elegantly painted rabbit carving in a wine colour. This small piece would add a decorative touch to any room. Dimensions: 4cm (w) x 11.5cm (d) x 7cm (h) Weight: 0.05kg

£

25.00

Alebrijes - sold

Distinctively decorated in purple and blue, this 'alebrije' has the face of a monkey and the body of a dog! Dimensions: 3cm (w) x 7cm (d) x 9cm (h) Weight: 0.04kg

£

19.00

Alebrijes - sold

Distinctively decorated in blue, this 'alebrije' has the face of a monkey and the body of a dog! Dimensions: 3cm (w) x 7cm (d) x 9cm (h) Weight: 0.04kg

£

19.00

Alebrijes - sold

A colourful and elegant cat, by artist Maricela Roque. Dimensions: 33cm (w) x 18cm (d) x 28.5cm (h) Weight: 0.6kg

£

150.00